Brooklyn road salt company buys former Laminations Inc. building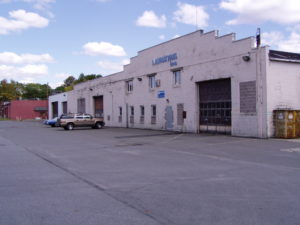 SCRANTON, PA — The Hinerfeld Commercial Real Estate Company brokered the sale of a 51,000 s/f industrial building owned by VON STORCH AVENUE LLC of Scranton. The building was sold to 1350 VON STORCH AVENUE, LLC.
The building is 50,000 s/f of warehouse/distribution/garage and approximately 1,000 s/f of office space on 3 acres located at 1350 Von Storch Ave.
The location is in the Pine Brook industrial area of the City bordering the Lackawanna River with active rail service. John Cognetti of Hinerfeld Commercial Real Estate said, "Demand for land and second generation industrial buildings with active rail service has been increasing. This type product historically is what made this region a desirable location to do business. These locations adjacent to residential neighborhoods often provide a labor force where it is convenient for employees to walk to work."
Richard Levy of Hinerfeld  represented the seller VON STORCH AVENUE LLC and Steve Farrell of Classic Properties represented 1350 VON STORCH AVENUE, LLC.