New York developer plans mixed use for iconic Oppenheim Building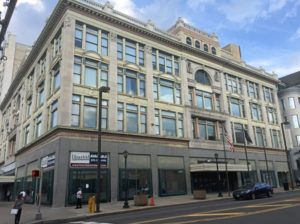 The art and architecture in downtown Scranton feel like a smaller version of SoHo to New York City developer Shimon Friedman.
Along with two other New York developers, he bought the Oppenheim Building, 401 Lackawanna Ave., last week for $1.2 million.
They plan to restore the stately old building and, in the near future, add luxury loft apartments in the attached Lewis & Reilly building, he said during an interview Wednesday.
With most of his business in New York, in the last four years, Friedman has been expanding into Pennsylvania, mostly in the Philadelphia/King of Prussia area.
He owns other commercial property in Lackawanna County, but he had his reservations about committing to Scranton.
But when Roaring Brook Twp. businessman John Basalyga sparked a downtown renaissance by buying what is now the Marketplace at Steamtown last year, he caught the inspiration.
"That made me more interested in looking downtown," he said. "I walked, literally, the whole downtown and just felt that, 'downtown it is.' "
Friedman owns 45 percent of the building; his partners own 27.5 percent each. The 193,000-square-foot structure has some tenants now including IRS and Social Security Administration offices. A law firm and an architectural firm also lease space, Friedman said.
The building had been on the market since October 2016, when Boscov family-owned Scranton Mall Associates lost it and the historic Samter's Building, located one block away at Lackawanna and Penn avenues, to foreclosure.
Oppenheim's sheer size, age — it was built in 1888 — and need for repairs meant a smaller pool of developers would have the gumption to take it over, said Elijah Miller, the agent with Hinerfeld Commercial Real Estate, who represented seller NBT Bank.
"It's close to 200,000 square feet, and for the city of Scranton, you have to be not only confident but experienced," he said. "This one definitely had more challenges to any other comparable building that's only 40,000 or 50,000 square feet."
NBT was asking for $2.9 million for the building, but accepted $1.7 million less considering all the preliminary work Friedman and his partners did in evaluating the building, as well as the work needed to modernize it, Miller said.
Friedman has plans to restore it and bring it up to contemporary standards while maintaining its historic look and feel. He wants to keep the old Oppenheim name, too.
"We're planning on bringing up the class of the building, maintaining it and welcoming new tenants," he said.
Contact the writer:
joconnell@timesshamrock.com; 570-348-9131;
@jon_oc on Twitter