Coordinated Health breaks ground for medical care campus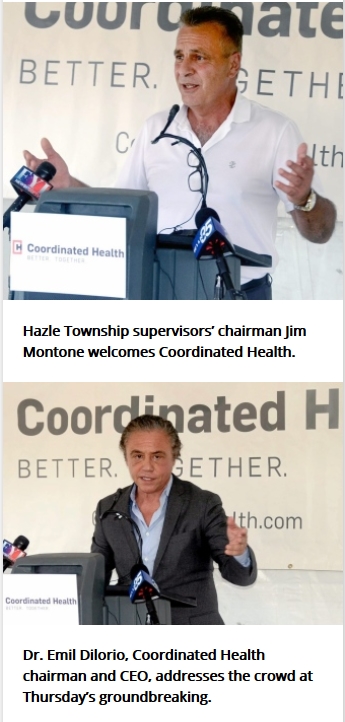 A little over a year after a proposal to build a health care center in the Humboldt Industrial Park was put on hold, groundbreaking for the facility was held Thursday.
Local officials joined officials of Lehigh Valley-based Coordinated Health to break ground to build a 42,000-square-foot walk-in clinic, ambulatory surgery center and medical office building on a six-acre tract at Humboldt Station, the commercial development at the easternmost end of the Humboldt Industrial Park near Interstate 81.
On July 18, 2015, the firm indefinitely suspended the project it announced that spring. On July 20, Coordinated revived the plan, which was approved by the Hazle Township supervisors.
CAN DO President Kevin O'Donnell said the facility will be near workers in the industrial park but will also be close to the general public.
Beneficial services
"Coordinated Health and the high quality of jobs it will bring will be an ideal addition to the Humboldt Station section of the park," O'Donnell said.
"The services that will be offered will certainly be beneficial to more than 60 companies and over 10,000 employed here. It will not only be a great addition to Humboldt Station and Humboldt Industrial Park, but also to the entire Hazleton area, and all of the surrounding communities."
Coordinated Health, which was founded to specialize in dealing with muscular and skeletal medicine, including on-the-job injuries and sports injuries, has operated a clinic in the Church Hill Mall in Hazle Township since 2012.
The new facility will not only expand its space, but also its services. When it opens sometime in the second quarter of 2017, it will offer treatment of all kinds, but specifically orthopedics, foot and ankle and back and neck injuries.
State Sen. John Yudichak, D-14, began his remarks with a humorous comment about CAN DO groundbreakings, which he has attended before.
Employment doubled
"It's always a pleasure to come to one of Kevin O'Donnell and CAN DO's tent revivals in the heat of August, because it means jobs for Northeastern Pennsylvania," Yudichak said.
He noted in addition to offering more medical services at its new facility, Coordinated will also double its employment.
"We gather here at the beautiful Humboldt Station to celebrate the expansion of Coordinated Health's footprint in Northeastern Pennsylvania, and the doubling of the size of its workforce with 70 jobs," Yudichak said.
"We are also here to celebrate continuation of a dream set in motion many years ago by CAN DO of national companies planting their corporate flag in Hazleton, spurring millions of dollars in private investment and creating thousands of new jobs.
"This facility continues CAN DO's dream and signals to all of us that whether it is skilled health-care professionals, skilled manufacturers or skilled logistical engineers, the people of Hazleton are meeting the challenge to deliver the workforce for the 21st century to propel any company to greater heights.
"This is the latest example of the tremendous economic growth occurring in the Hazleton area."
State Rep. Gerald Mullery, D-119, said he became acquainted with Coordinated Health when he represented injured workers for 15 years in his private law practice before entering the state House.
"I represented hundreds of injured workers, and developed a level of knowledge of the quality of health care, and sometimes the lack of quality of health care provided to my clients." Mullery said. "I can tell you with 100 percent honesty and certainty I never hesitated to suggest a trip to Allentown or Stroudsburg to seek care from Coordinated. I'm very happy to see them migrate north to Hazleton."
Dr. Emil DiIorio, an orthopedic doctor who is Coordinated's CEO, said the firm is committed to Northeastern Pennsylvania. He lives in Albrightsville and Coordinated has facilities in Lehighton, Stroudsburg, Brodheadsville and Pittston.
"We are very committed Northeastern Pennsylvania, and very committed to Hazleton. We love Hazleton," DiIorio said, triggering applause from the audience.
"I love to see what has been done here to bring world-class employers to this area to produce jobs. There is another 800 acres here to develop, and we have to work hard together to do it."
jdino@standardspeaker.com
Save