Agway building in Dallas Township is sold
By Eileen Godin – egodin@timesleader.com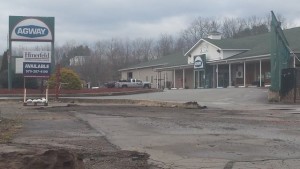 DALLAS TWP. — The former Agway building on Memorial Highway has been sold to Kurt Fetterman Footpaths and Landscapes, the township zoning officer said Thursday.
The building at 3101 Memorial Highway was listed with Scranton-based Hinerfeld Commercial Real Estate in September for an "undisclosed price."
The sale between Fetterman and the former owners was finalized March 1, Carl Alber, said zoning officer with Dallas Township.
Agway occupied the 17,280 square-foot building on 2.02 acres for nearly 14 years. Agway closed its doors in late November.
Kurt Fetterman Footpaths and Landscapes is based in Tunkhannock.
Reach Eileen Godin at 570-991-6387 or on Twitter @TLNews.