Redevelopment Authority talks marketing Wilkes-Barre's Market Street Square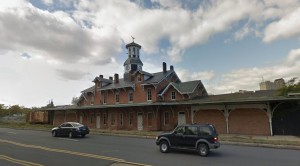 By Joe Sylvester – jsylvester@civitasmedia.com
WEST PITTSTON — The Luzerne County Redevelopment Authority met with two representatives of Hinerfeld Commercial Real Estate Tuesday about marketing the Market Street Square property.
But the board members held off on voting to approve an exclusive listing contract with the firm because two members were absent.
The vote was tabled until next month's meeting so they could be present.
Only Carol Keup, Judith Barr and Mark Rabo were present. Attorney Joseph L. Vullo, who is board chairman, and Anne Pelak were absent.
The vote is whether to authorize the contract with the Scranton-based Hinerfeld to list the property, which includes the historic New Jersey Central train station, a strip mall and vacant land at Market Street and Wilkes-Barre Boulevard in downtown Wilkes-Barre. The listing price is $1.88 million with a 6 percent broker fee.
Eight months ago the authority issued a request for proposals from developers to buy the property, but there were no takers. Authority members decided in April to explore hiring a commercial real estate broker to aggressively market the property.
Patrick Sammon of Hinerfeld said it will be difficult to sell the property because of the deteriorating state of the train station. Griff Keefer, also of Hinerfeld, said developing the property will require creating a group of stakeholders with a vested interest in Wilkes-Barre.
"Most developers would see it as a major eyesore," Keefer said.
He added, "We know it's not going to be an easy fight. Pat and I are from Wilkes-Barre, and we would like to see the city do well."
But he said it would be foolhardy for anyone sitting around the table to think the property would sell for $1.8 million.
The authority bought the station in 2006 for $5.8 million in community development money. An outside appraiser last year estimated the property as worth $1.88 million.
The authority's plans to renovate the station, which was built in 1868 and is listed on the National Register of Historic Places, were halted in 2012 when county Manager Robert Lawton canceled a $2 million community development allocation to the authority because the project wouldn't create jobs.
In other business on Tuesday, the authority voted to authorize Computer Visionaries of Pittston Township to purchase the domain names luzernecountyredevelopmentauthority.org and .com — conditional upon the authority retaining ownership — as the first step in the creation of the authority's website.